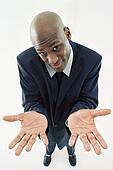 If anyone should ask what I want right now, the list would be- a fabulous job, a behd car, a new phone, IPad, hard drive, a beach house, trip to the Caribbean and if they can wing it- a husband. What do you want?
So, I did this check on FB recently, to get a feel of what the average man wants; note- I didn't ask what a man wants from his woman, I just put, 'What do men really want?' and alas! The larger percentage bent towards demands from a woman (that goes to say they really can't do without us, now whose world is it? Ha ha!)
P.S- FB is one of the most rewarding means for seeking information, if you know how to use it. It is interesting to know just about how much you can find out on facebook.
Well, the responses varied- from the guy that wants- a good job n a woman that brings happiness to the one who wants- real n rare love and the one who wants- a humble, sincere, intelligent, homely, responsible, mentally strong, caring and God-fearing lady, plus another who feels money and sex is about it. Trust me some answers were eye openers and some, downright hilarious but one particular one got my attention and got me thinking. This pal said and I quote, '
This is really a tricky question, but lemme answer it this way. This response would be almost solely for the man you choose to love. It's not something you can give to every man that comes your way although every man craves it. The absolute need is Respect (honour, submission) from his spouse. Not a form of subservience but in love. This crave of man is in the very essence of him, wired in his quest for dominion. Now the trick is once a man can get it from his immediate spouse, the rest is settled from his externals'
. I kept turning this over and over in my mind, not because this was a first but it hit me somewhere close to 'home'. Then I remembered what God said when he created Adam- the first man to ever live. He said, 'Be fruitful n multiply. Dominate the earth and subdue it' #gbam!. This was the very WORD……the rev.
It didn't stop there, I got kinda excited, and so I decided to experiment. I tried this on a couple of unsuspecting male peeps n it worked. In that experiment, I discovered that even if a man doesn't like you, but you make him feel special and like a king, he will begin to look your way. There's seems to be something about making a man feel that he owns the world, at least your world that turns him on, so to speak.. Just make him feel like a king and he'd be tripping to please you. This isn't hearsay, tried it, it worked.
I got excited because it was a challenge to me. On an average, I can be extremely independent and stubborn. My friends once nick-named me 'no-nonsense'. I don't condone rubbish, you mess up, I treat your case. Brethren, I started thinking, could this be a minus for me when I'm married? I know I am supposed to submit to my husband, but can I do that even when he messes up, makes me mad or is being irrational? It was reality check time.
I heard something few weeks ago……'the difference between an achiever and a wannabe achiever is
confidence
. When I thought about it, I had to agree, confidence is like a drug that gives one the leverage to do just about anything. You feel like you can take on the world and fear ain't got nothing on you. Well, when a man has a woman's (especially the one he loves) respect, admiration, attention and submission, he has that confidence, and it is a good feeling. Now, a man's source of confidence shouldn't necessarily be from his significant other, but when the odds around him are trying to put a damp on his spirit and bring him down, but there's that one who has made it her duty to make him feel special and loved, those odds become less significant.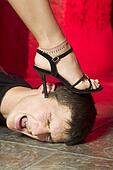 It is innate in a man to want to dominate. It is like his God-given role. He wants to be in charge and when he's not, things aren't ok.
No man wants a woman who can't listen and submit to him
. One person's gotta wear the pants, and it has to be him. Now, I ain't married, so I cannot give you a first-hand experience on what submission to a husband should be, but I can tell you what I think.
I think it's about allowing him take the lead, I think it's about voicing my opinion but not always insisting on it. I think it's about constant respect, no matter what he does or doesn't do. I think it's about meeting his needs, I think it's about the way I talk to him, being able to disagree and differ without being overbearing. I think it's about encouraging him relentlessly. I don't think submission is enslavement neither do I think it's about keeping quiet when you know he is wrong. I don't think it's about letting him take you for granted constantly neither do I think it's about letting him get away with bad/destructive behavior.
Like that my pal wisely said, this ain't for every man but for that special man….and He even said, 'wives, be ye submissive unto your husbands', not women, be submissive to men. The recipe I believe Christ gave for marriage is
LOVE
and
SUBMISSION
. '
Husbands, love your wives
……..' '
Wives, be submissive
…….' That says a whole lot.
Ok, this is just my opinion, am I wrong? What do you think?
Much love.